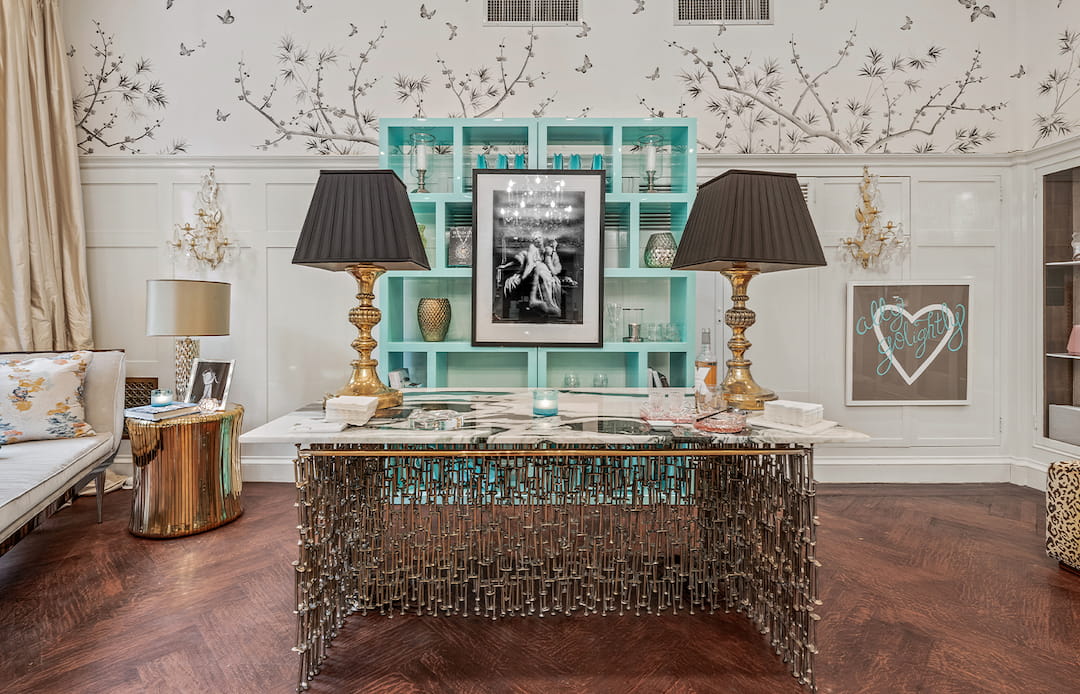 In this inspiring interior design exhibition, over fifteen talented designers have showcased their curated styles in the annual Holiday House NYC. This year's designer showcase takes place in a historic 12,000 square foot Upper East Side townhouse originally crafted in 1904 by architect Charles A. Platt. Organized by designer and breast cancer survivor Iris Danker, the annual showcase event donates its proceeds to the Breast Cancer Research Foundation.
Celebrating life and optimism, each of the designers have put their own creative spin on the modern and inviting spaces, completely transforming the 4-storey historical residence for a great cause.
The year's participating designers and firms include Ally Coulter Designs, Bakes & Kropp, Baltimore Design Group, Bennett Leifer Interiors, Bjorn Bjornsson Interior Design, Elsa Soyars Interiors, Hilary Matt Interiors, Jasmine Lam Interior Design + Architecture, Lauren Berry Interior Design, The Lewis Design Group, MHM Interiors, Nicola Rosendorff Interior Design, Rooms by Zoya B, Studio Neshama, Tara Kantor Interiors, Touijer Designs, and Vanessa DeLeon Associates.
Holly Golightly Meets Walker Zanger
Connecticut based interior designer, Ally Coulter, was inspired by Breakfast at Tiffany's for her second-floor salon space. Ally Coulter has created breathtaking interior spaces all over the world, reflecting her love for art and culture in her luxurious styling. Channeling her inner Audrey Hepburn and the 1961 Hollywood vibe, it came as no challenge for her to bring this enchanting space to life.
"It was wonderful creating a space for the modern day, Holly Golightly. So exciting to have luxury partners like Walker Zanger, Tiffany and Jimmy Choo."
---
The salon features intricate silk eThe salon features intricate silk embroidered wall coverings, custom Italian velvet sofas, and an antique chandelier adding glam to the timeless design. Lined along the walls are custom cabinets containing Calacata Caldia Luxe shelving, a marble tile just grand enough to support precious jewels, glamorous Tiffany accouterments, and fresh off the runway Jimmy Choo shoes and accessories.
Center stage standCenter stage stands a custom bar perfect for drinks and laughs featuring Dalmata Marble, also known as Panda White Marble, paired with bronze detailing. Selected and inspected from Italy to maintain reputation of beauty and quality, this bold, yet elegant surface is one of many natural stones available from Walker Zanger. "I approached Danna as I wanted a fabulous and luxurious slab for a bar area, and custom marble shelves for Tiffany and Jimmy Choo accessories." This chic panda pattern pays homage to Audrey Hepburn's classic black Givenchy dress and pearl necklace. With Audrey in mind, and working alongside our Manhattan Showroom Manager, Danna Templeton, Ally selected and styled the marble slab to complement the Tiffany Blue and gold accents in the room.
Now through December 15th, guests can channel their own inner Audrey Hepburn and visit this Breakfast at Tiffany's themed space at 125 East 65th Street in Manhattan.