When interior designer Kay Lang sought to bring to life the architectural details of a Southern California Autograph Collection hotel, she looked to Walker Zanger to create the perfect tile palette. Working with AO Architect and Kay Lang + Associates, Walker Zanger crafted a custom tile esthetic that nestled right into the region's architectural details. Walker Zanger celebrated the rich history of the region and design of the hotel with a presentation of stunning hand-painted decorative tiles and custom terracotta details.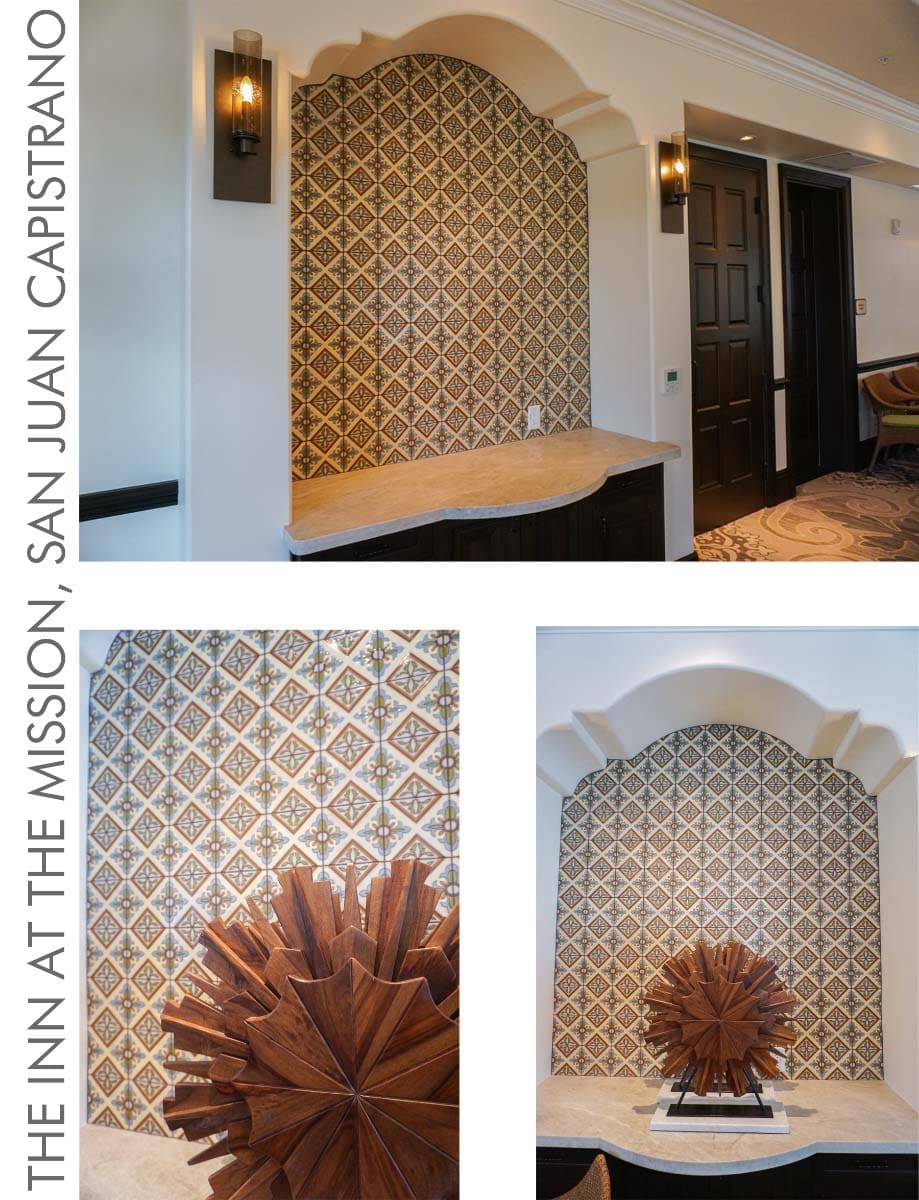 Custom 6×6, 4×4, and 2×2 inch hand-painted decorative tiles are used throughout the exterior of the hotel. A balanced color palette welcomes guests on exterior stairways throughout the hotel grounds. These tiles reflect the rich mission history of the region.
---
For interior walls, Kay Lang + Associates selected tiles from our Duquesa collection. Duquesa is a collection of hand-painted tiles that draws on Mediterranean influences, each tile is hand-painted on a cream background, creating a rich vintage look. The Duquesa Fatima Mezzanote and Catarina Ambra are used throughout the restrooms for decorative details in the hotel's public spaces. These gentle blue and ochre colors pull forward the architecture of the hotel.
---
For flooring details, our handcrafted Spanish Cotto, a terracotta tile made in Mexico from locally-sourced red clay, is used throughout the hotel's common areas. This tile, a regionally significant material, truly honors the area in Mexico where many of our tiles are made add architectural significance to the hotel.
---
For a design centerpiece of the hotel, a striking terracotta medallion was created to enhance design between the hotel's common areas and the entrance of guest sleeping rooms. For this dramatic floor display, we sourced a 108-inch custom four color terracotta medallion from Italy. Kay Lang envisioned the medallion, it was our job to help her design be realized. This same terracotta was used throughout the hotel as a striking border around dark rich wood floors.
---
Look to Walker Zanger for all your stone and tile needs. Our associates are here to help you craft and source custom tiles or enhance your design with materials from our impressive collections.
---
Walker Zanger Inventory Materials
Duquesa Catarina Ambra Deco
Duquesa Alba Mezzanote Deco
Duquesa Fatima Mezzanote
Spanish Cotto 13×13
Walker Zanger Custom Materials
108" Diameter Custom Terracotta Medallion from Italy
Custom 6×6, 4×4 and 2×2 decorative tiles.
Custom trim to work with the decorative tiles
Custom Terracotta Border
Custom Terracotta in 12×12 and 8×8 size formats.
Interior Designer
Kay Lang + Associates
www.kaylangassocs.com
Architect
AO Architects
www.aoarchitects.com
Across the globe, architects and designers look to Walker Zanger to solve complex stone and tile sourcing needs. With a deep history in the stone world, allow Walker Zanger to be your partner for all your surface needs.