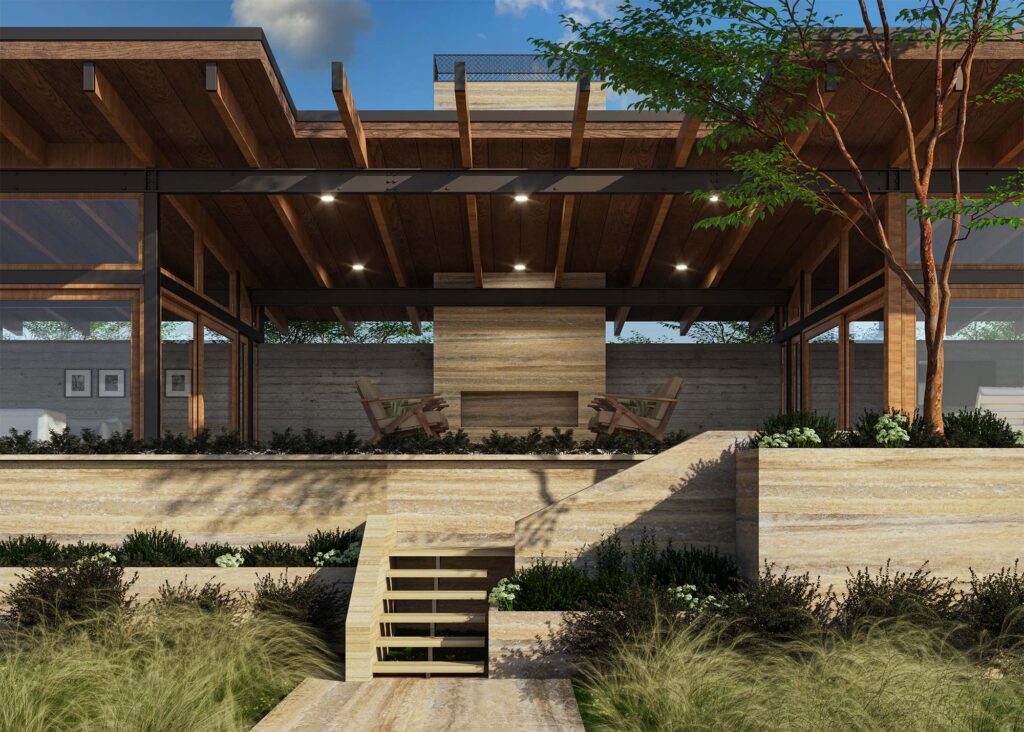 As the seasons shift and change, so do our preferences for indoor and outdoor living. Attractive and durable, stone is one of the few materials that can function in either environment. That's why it's foundational to spaces both inside and out, and adds a restorative, soothing influence throughout the whole home. For residential and commercial designs, the choice of material is paramount. For an option that is truly exceptional, consider Travertine Stone.
Embracing Travertine in Contemporary Design
Travertine, with its ancient origins, transcends time and trends. Its enduring beauty and remarkable durability have made it a foundational element in spaces that seamlessly blur the boundaries between indoor and outdoor living for centuries.
Despite its storied past, this natural stone has evolved to become a widely sought-after staple in contemporary design. When cut against the bed, select Travertines reveal a linear vein pattern, which is showcased in rectangular tiles as shown below.
This unique combination of historical charm and modern elements creates a fresh look, sparking high demand among discerning designers.
Discover Walker Zanger's Travertine Collection
At Walker Zanger, we source Travertine tile and slabs from renowned quarries around the world. With natural stone, no two pieces in the collection are alike. These stones embody the very essence of timeless luxury, with an artisanal touch that enhances their beauty. Our collection offers a diverse palette of colors and textures to suit every style, with light to medium tones, and subtle to distinct veining patterns.
An ideal choice for residential applications such as countertops, walls, and flooring, Travertine's strength and resilience also makes it well-suited for commercial uses.
Featured below, the floor to ceiling linear veining of our Tuscan Silver Extra Travertine slab provides an extraordinary frame to the picture-perfect Hudson River view.
Caption: Architecture by Bilotta Architecture, interior design by: Innato Interiors LLC
Designing a space with Walker Zanger's Travertine collection means not only selecting natural stone; but embracing a legacy of quality and sophistication to be cherished for generations. Discover the ancient beauty of Travertine. Find your nearest showroom or authorized dealer: https://www.walkerzanger.com/locations/.